School Lanyards - Show Your Pride
Thousands of schools all over the world focused on creating special and memorable lanyards. Our custom school lanyards can be a symbol of team spirit and friendship between schoolmates.
The personalized lanyards allow you to be on your ID cards, keys, and other important items. Personalized lanyards also can help your activities go quicker, such as getting a library book or going to the classroom.
Offer the lowest possible price without compromising quality or appearance.

Turn your design into custom lanyards in bulk.
Quick turnaround time from order to deliver your product free.
Ranged from design to production, we carry on the strict supervision.
School Lanyards for Different Occasions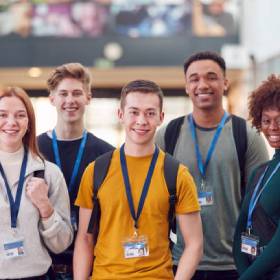 User-friendly Ordering Solutions to Customize Your School Lanyards!
Our advanced quotation offer a choice or option at every step, providing you with a relaxing and pleasant shopping experience, saving you a lot of time and budget.
Customized campus lanyards intuitively, the result will be lanyards that look convenient and uniquely yours. Our online ordering process makes it easy to create the perfect lanyards for schools.
Q: What is the clip on a badge lanyard used for?
A: Lanyard custom clips refer to the attachment base of the lanyard where hooks or ID holders can be added. The most popular attachments are swivel, metal J-hooks, lobster, slide and oval clips are also available. Bulldog clips are similar to chip clips or clothespins and are best suited for holding badges and identification cards for ID lanyards.
Q: What is the standard length of the id lanyard?
A: The standard length of our lanyards is 16 inches long x 3/4 inches wide, because they hang around the neck. We also have a 16 inch long x 1 wide lanyard. Our lanyards are 30 and 36 inches for your option. Additionally, we offer school bus lanyards, brand name lanyards and various lanyard accessories for you.
Q: What fabric or materials are used to make the badge lanyards?
A: They are different types of lanyards: polyester lanyards are popular, lightweight yet durable and offer a smooth, shiny finish. Nylon lanyards are very strong and feature small ribs or ridges across the lanyard. Tubular lanyards have a slimmer width, while providing durability and comfort. Woven polyester lanyards are an affordable way to stand out from the crowd with their shoe-lace-like resemblance.
Customer Feedback
Excellent
Amy M.
"I have had a wonderful shopping experience with the customer service representative I've worked with so far."
Chloe L.
"This was a good experience, the custom school lanyards arrived quickly and appear to be high quality."
Joseph M.
"AMAZING experience and EXCELLENT customer service. The artist I've been working with is wonderful and has been great! A+++ "