Polyester Lanyards - Economy and Affordable
Printed polyester lanyard is the most common type of lanyard for our selling. Its cost-effective, soft texture, is high quality, and deeply loved by customers.
Whether you want a corporate, campus, organization, or another type of printed lanyard design that you want to customize for your next trade fair, we can meet your needs for every occasion. Polyester personalized lanyard is also great for gifting at festivals, fairs and other big events. Attendees can easily get tickets.
Offer the lowest possible price without compromising quality or appearance.

Turn your design intocustom made lanyards
Quick turnaround time from order to deliver your product free.
Ranged from design to production, we carry on the strict supervision.
Our Polyester Lanyards for Different Occasions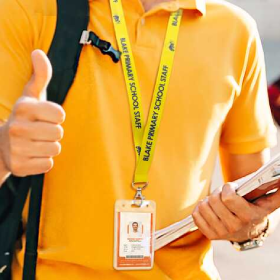 User-friendly Ordering Solutions to Customize Unique Polyester Lanyards!
Our high-quality Lanyards offer a choice or option at every step, providing you with a relaxing and pleasant shopping experience, saving you a lot of time and budget.
Customized lanyards intuitively, the result will be lanyards that look nice and uniquely yours. Our online ordering process makes it easy to design perfect promotional lanyard for your school, sporting event or concert.
Q: Do you offer polyester badge holders and business cards?
A: we offer you customization of lanyards, business cards can be fixed on your lanyards. A complete set of products will be finished from Customlanyards Co. online quotation system.
Q: Do you have minimum purchase amount for polyester lanyard?
A: There is no minimum order quantity for our custom call lanyards and custom wrist lanyards, as long as a single order amount is $99.
Q: How many types of lanyards can you make?
A: Customlanyards Co. provides various lanyards to you, such as Polyester Lanyards, Dye sublimated Lanyards, Woven Lanyards, Tubular Lanyards, Nylon Lanyards and so on. Select the size and attachment in the quotation system. We can meet all your needs.
Customer Feedback
Excellent
Amy M.
"I have had a wonderful shopping experience with the customer service representative I've worked with so far."
Chloe L.
"This was a good experience, the custom key lanyards arrived quickly and appear to be high quality."
Joseph M.
"AMAZING experience and EXCELLENT customer service. The artist I've been working with is wonderful and has been great! A+++ "
Customize
X
Customlanyards Co. offers a 30% discount for hard enamel pins and Cloisonne Pins at the cheapest price and high quality. Unique Design and Make your own lanyards.