Woven Lanyards - Durable and Not Easy to Fade
The pattern of the woven lanyards is directly sewn on polyester fabric. Soft to the touch, tightly woven patterns combine with polyester, Making the weaving design very durable, without worrying that your artwork will fade or wear over time.
You can rest assured whether you use it in a leisure environment, social or business occasions. Your custom woven lanyard also maintains clear graphics and bright colors after use.
Offer the lowest possible price without compromising quality or appearance.

Turn your design into woven custom lanyards.
Quick turnaround time from order to deliver your product free.
Ranged from design to production, we carry on the strict supervision.
Woven Lanyards for Different Occasions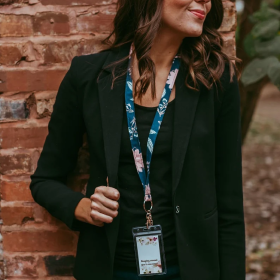 User-friendly Ordering Solutions to Customize Your Best Lanyards Custom!
Our high-quality woven lanyards offer a choice or option at every step, providing you with a relaxing and pleasant shopping experience, saving you a lot of time and budget.
Customized woven lanyards intuitively, the result will be lanyards that look vibrant and uniquely yours. Our online ordering process makes it easy to custom your logo lanyard.
Q: What is your favorite size for woven lanyard?
A:Our most popular lanyards are 3/4" or 1'' woven lanyard. We can customize your size and category according to your needs. The design of custom lanyards can be created from our quotation system.
Q: Do you offer free shipping on woven lanyards?
A: Yes, we did it! All our customized woven lanyards include free shipping. Free shipping applies to the continental U.S. excluding Alaska, Hawaii and all U.S. offshore territories. Get your lanyards for school, custom key lanyard and lanyard keychain custom now.
Q: Can you help me with my woven lanyards design?
A: Sure. Don't worry about your lanyard's design. The professional design team has many design experience. We offer a free design service for all users. Lots of customers have done business with us for many years and are satisfied with our design.
Customer Feedback
Excellent
Amy M.
"I have had a wonderful shopping experience with the customer service representative I've worked with so far."
Chloe L.
"This was a good experience, the custom woven lanyards arrived quickly and appear to be high quality."
Joseph M.
"AMAZING experience and EXCELLENT customer service. The artist I've been working with is wonderful and has been great! A+++ "