Key Lanyards: Your Personal Storage Tool
The lanyards for keys should be sturdy enough to hold all your personal items when you are out. Your custom key lanyards should attach a circle key ring attachment, which can fix your keys firmly.
If your custom lanyards for keys can hold more than just your keys, and it is designed with a large carrying capacity, we will be listed as Best Lanyards for Keys.
Offer the lowest possible price without compromising quality or appearance.

Turn your design into an outstanding short key lanyards.
Quick turnaround time from order to deliver your product free.
Ranged from design to production, we carry on the strict supervision.
Our Key Lanyards for Different Occasions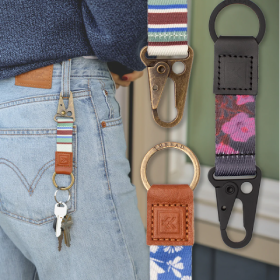 User-friendly Ordering Solutions to Customize Key Lanyards for Guys!
Our Lanyards quotation offer a choice or option at every step, providing you with a relaxing and pleasant shopping experience, saving you a lot of time and budget.
Customized lanyards for keys intuitively, the result will be single custom lanyards that very useful for your daily use. Our online ordering process makes it easy to create cool lanyard for your keys.
Q: How about other uses for custom lanyards for keys?
A: Special attachments and hooks are available to secure clear ID holders, badges, keys and more. Our online ordering process makes it easy to create coolest lanyards for keys.
Q: Where can I find attachment options for your neck lanyards for keys and prices for those options?
A: Attachment options can be found in our online free quotation system. If any doubts please contact our sales coordinators.
Q: Can I choose colors for custom key lanyards?
A: Yes, you can choose custom PMS color, our factory will dye the custom logo lanyards. This will add 1-2 working days to the production time.
Customer Feedback
Excellent
Amy M.
"I have had a wonderful shopping experience with the customer service representative I've worked with so far."
Chloe L.
"This was a good experience, the custom key lanyards arrived quickly and appear to be high quality."
Joseph M.
"AMAZING experience and EXCELLENT customer service. The artist I've been working with is wonderful and has been great! A+++ "