Wrist Lanyards - Mini Shape with Charm
The cute wrist lanyards are normally used on pockets and backpacks as decoration. The wrist lanyard can be worn around your wrist, like a loose bracelet, which is also a mini version of standard quality lanyards.
The custom wrist lanyard is often used by security personnel at conventions, nursing homes, factories, and schools. Companies distribute them at trade shows to promote their business.
Offer the lowest possible price without compromising quality or appearance.

Turn your design into an outstanding custom wrist lanyard.
Quick turnaround time from order to deliver your product free.
Ranged from design to production, we carry on the strict supervision.
Our Wrist Lanyards for Different Occasions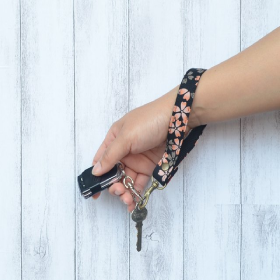 User-friendly Ordering Solutions to Customize Your Wrist Lanyards!
Our Lanyards quote solution offers a choice or option at every step, providing you with a relaxing and pleasant shopping experience, saving you a lot of time and budget.
Customized wrist lanyards intuitively, the result will be small lanyards that look uniquely yours. Our online ordering process makes it easy to create the perfect convenient wrist lanyard for your keys, car, or cell phones.
Q: What attachments for wrist lanyards wholesale?
A: All lanyards come with your choice of a variety of selections of different designs. You can add additional different designs for attachments for a fee. If any doubts, please consult your sales coordinators for pricing.
Q: How to custom length of wrist lanyard?
A: The wrist length lanyard are available for a fee. Please consult your sales coodinator for more details.
Q: How do you ship the lanyard?
A: All lanyard orders are shipped directly from the factory to your location free of charge with UPS Red Labels. We will email you a UPS tracking number when your order ships. We also require a signature upon delivery. This will ensure you receive the lanyard for sale.
Customer Feedback
Excellent
Amy M.
"I have had a wonderful shopping experience with the customer service representative I've worked with so far."
Chloe L.
"This was a good experience, the best lanyards for keys arrived quickly and appear to be high quality."
Joseph M.
"AMAZING experience and EXCELLENT customer service. The artist I've been working with is wonderful and has been great! A+++ "